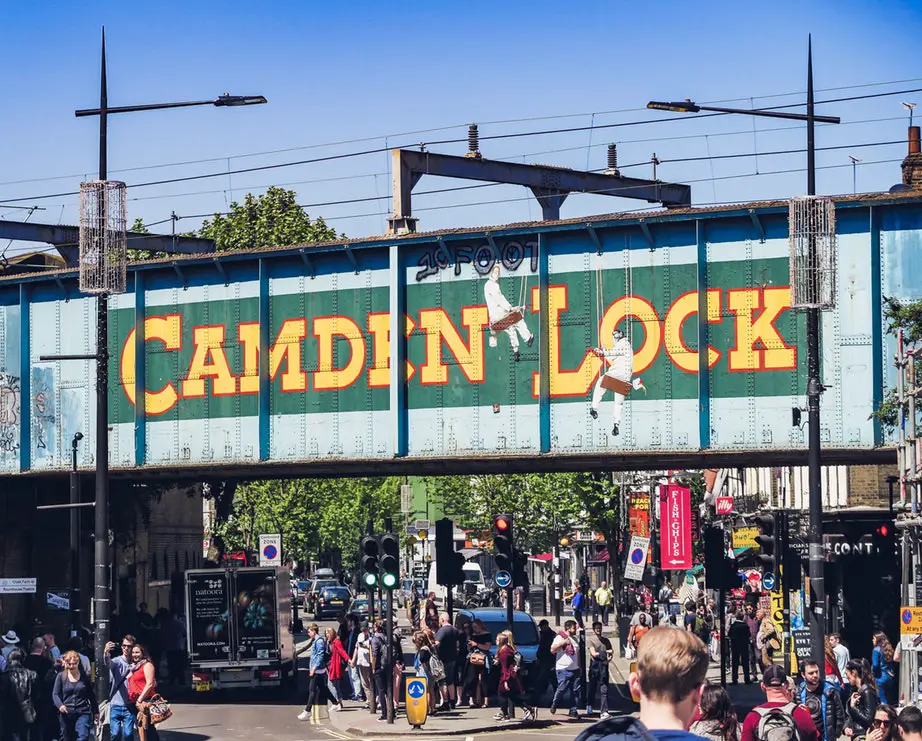 When you visit London's Camden Town, you'll get to experience a mixture of cuisines, markets, live music venues and lots lots more.
Table of Contents
A Brief History of Camden Town
Camden Town has been a suburban area ever since the 1970s. It was developed by the Grand Union Canal, and the advanced railway transport consequently changed it to a lively section of London.
Currently, locals and tourists gather in Camden Town to sample cuisines from all over the world, walk along the Regent's Canal, attend live music events, as well as search for treasures within its markets.
Furthermore, many famous personalities such as Gwyneth Paltrow, Gwen Stefani and Daniel Craig have made this Camden Town their home.
Things to do in Camden Town:
Shopping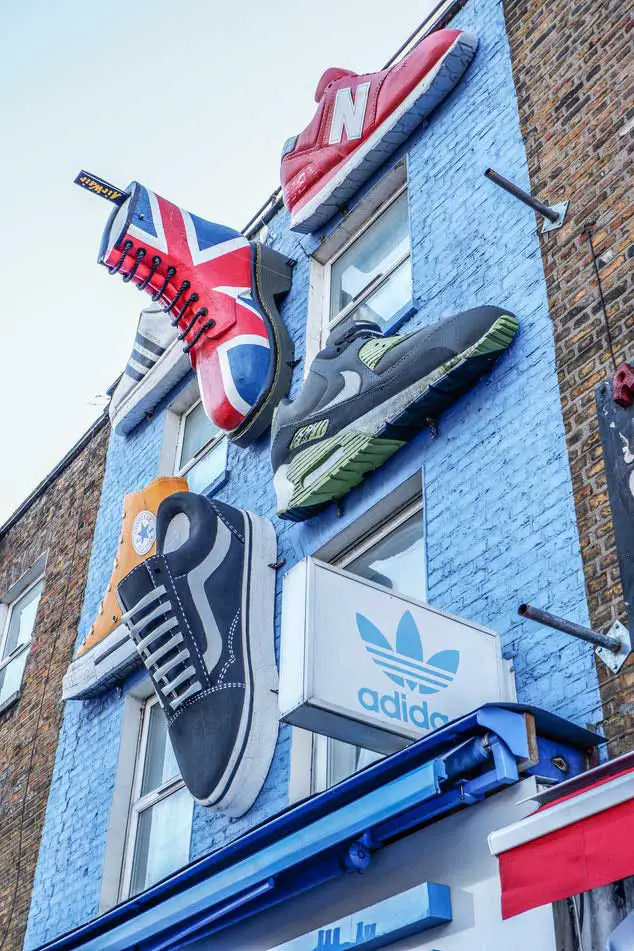 In Camden Town Market, you will find a labyrinth of open-air marketplaces and stores which is guaranteed to keep you very busy, including;

• Camden Lock Market
A great place to buy antique books, crafts, jewelry, clothing and try foods from around the world.

• Camden Lock Village
This sells accessories, clothing and an assortment of unusual commodities you won't find anywhere else.

• Camden Market
This market was initially known as Buck Street Market, this renowned market is where you will find fashion of all tastes.
• Inverness Street Market
The original fruit stands are still present; the majority have been converted to souvenir and footwear stalls.

• Stables Market
A combination of permanent stalls and shops selling antiques, food, antiques, one-off items as well as alternative clothing.

… Additionally, at the Electric Ballroom, you will find an indoor fashion market usually open on Sundays only.
Things to do in Camden Town:
Food and Drink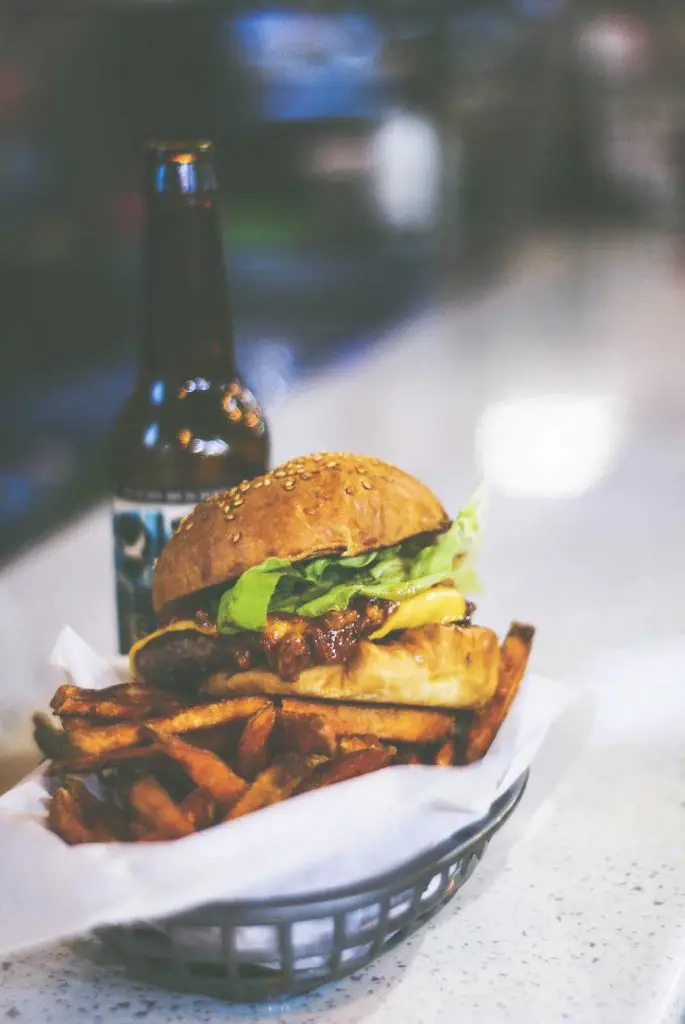 The restaurants and street vendors you come across when you visit Camden Town will offer a wide variety of dishes from around the world. For example, if you intend to catch a show, there is an excellent pre-theatre menu at the Roundhouse that's worth checking out.
Likewise, make sure you explore the tasty Indian dishes at Masala Zone, Trufflesecco for its outstanding Italian treats or Gilgamesh for its amazing Pan-Asian cookery.
Shaka Zulu, a bar, nightspot as well as a restaurant in Camden, serves South African food plus entertains its visitor through the evening with live dance and music.
While in Camden, there always is a bar nearby. You could try the renowned Dublin Castle, BrewDog, a Scottish import, or The World's End situated opposite Camden Town Tube Station (Northern Line).
Pro Tip: Be sure to ask when you get to the bar in any pub for local beers manufactured in Camden Town.
Camden Live Music
Camden Town has always has been a hub for live music scenes in London, with famous spots that have launched the careers of several popular artists. To watch a performance from some of the latest bands, check out the Underworld, Koko, and Electric Ballroom.
Moreover, if you are into blues and jazz music, you need to check out the Blues Kitchen or Jazz Café.
While at The Roundhouse, you have the opportunity to see a performance by some of the best UK companies such as the Royal Shakespeare Company, live music gigs, art installations, and films. Furthermore, at the Etcetera theatre, you can catch an exciting mix of alternative performances or visit the Camden Highlight to watch a comedy show.
Additional Things to do!
You can visit the Jewish Museum to explore Jewish heritage and life, check out the much-admired Camden Arts Centre to check out its broad range of contemporary visual arts or The Cob Gallery for its art exhibitions.
If you want something a bit more active, you can take the kids to the Pirate Castle for great family fun and a wide array of water-based happenings.
Additionally, there is the ZSL London Zoo located in Regent's Park, an excellent spot where both adults and children can have a great time.
You can visit the very picturesque and trendy Primrose Hill for its impressive views of the city.
Accommodation
If you are on a budget, the Smart Camden Inn is an excellent pick. A bit pricier are the St Pancras Renaissance Hotel, the Pullman London St Pancras, as well as Melia White House.
Getting Around
Tube Stations
You can use either Chalk Farm Tube station or Camden Town Tube station (both on the Northern Line). Both of these stations serve the Camden area. Likewise, there are various bus routes nearby.
If you plan to stay for more than a day in London, purchasing a Visitor Oyster Card in advance is very much worth it.
Typically, this Visitor Oyster Card is sent to you before your arrival in London.
However, if you do not have a Visitor Oyster Card, you can purchase an Oyster Card at any Tube Station machine for £5.
Author Profile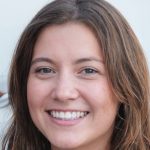 Mandy Braithewaite is a writer, blogger, and proud resident of Camden Town in North London. She's passionate about sharing her love for the area with others, whether through her website Visitcamdentown.com or her writing about the neighborhood's history and culture.

As a big Amy Winehouse fan, Mandy also enjoys exploring the singer's legacy and sharing recommendations for fans. When she's not writing or exploring Camden, you can find Mandy hanging out in the area's many cafes and music venues, always on the lookout for something new and exciting to discover.
Things to do in Camden Town!